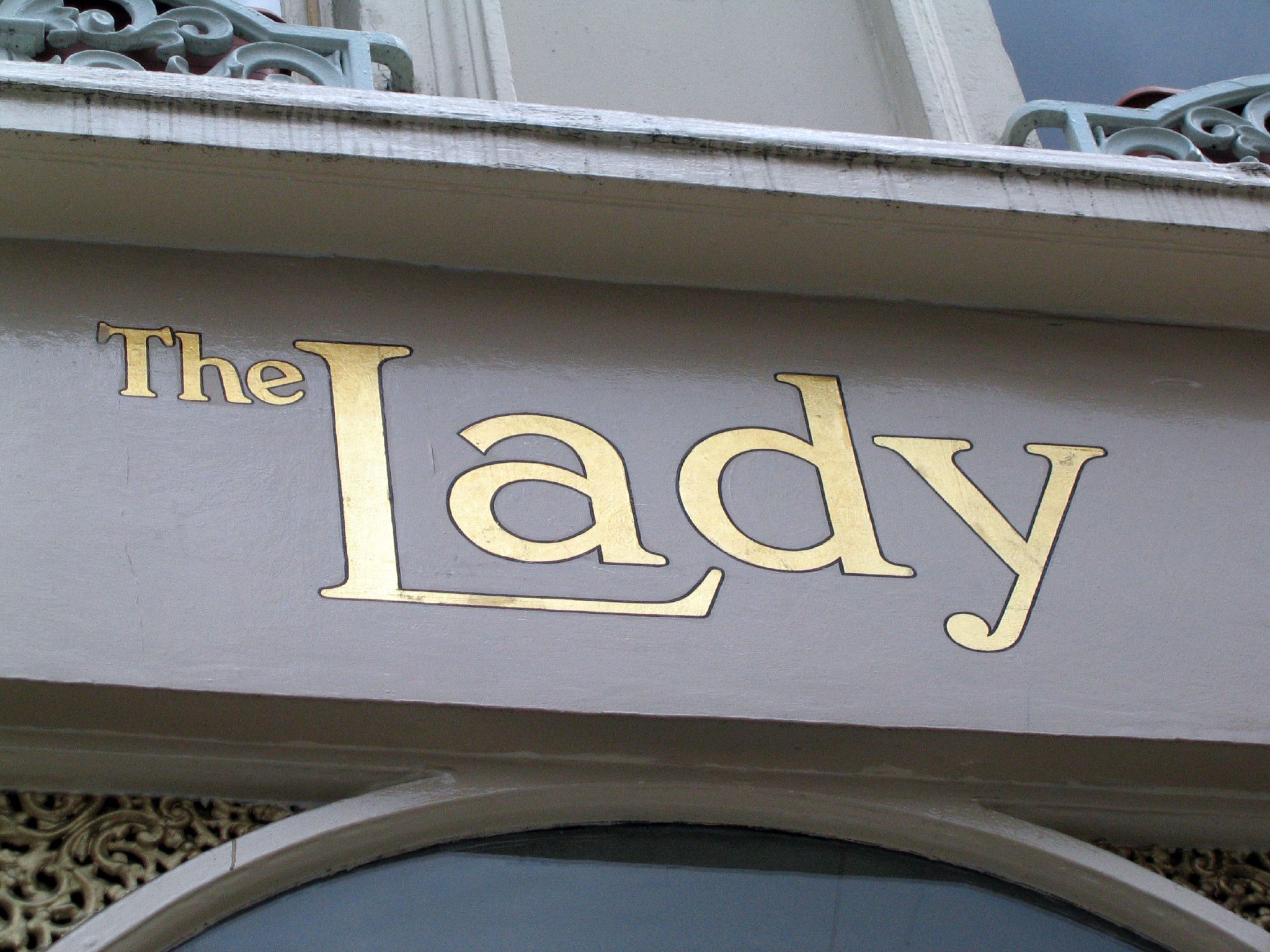 By Abigail Buchanan, MA Newspaper Journalism

Stepping into the offices of The Lady magazine in Covent Garden is like stepping back in time. Behind a cream exterior and gilt doors that read 'General Enquiries' and 'Classified Advertising', there is an unmanned old-timey oak reception and a bell that says, 'PLEASE RING'. Old issues of the magazine, which has been in continuous publication since 1885, are displayed in the windows.
The Lady is Britain's longest-running women's weekly magazine, and Sam Taylor is its 11th editor. She meets me at reception and leads me to the editor's office, which is wallpapered in faded florals. It is full of books, papers and paraphernalia – including an orange chaise lounge with a cross-stitched cushion that says, 'Her Ladyship', and a large painted portrait of Darcy, the office dachshund.
In many ways The Lady seems like a relic from a bygone era. However, Taylor remains stoutly unconcerned about the changing media landscape or the magazine's dwindling readership (it has a circulation of approximately 30,000, but this is far smaller than when it was at its peak). Last month, The Lady's famous offices were put up for auction after over a century of residing in the same family, with a guide price of £13 million. Looking over its neighbours – a Caffè Nero and a TGI Fridays – gives an inkling of what the future of the building could hold.
But The Lady's not for turning. Taylor has no plans to re-market the magazine to millennials. "There's no point in us chasing people your age" – she motions to me – "to do so, we'd have to include a lot of things that would alienate our older audience."
Does she really feel no impetus to try and engage a younger demographic? Rumours of voluntary redundancy packages for The Lady's small tribe of employees are swirling. The future of the magazine is hanging in the balance.
"I do think you should be flirting with as many readers as you can", she says. "It's like hosting a great dinner party – you just chuck everybody into the mix and hope they get on. If you've done a good job, there'll be something at the table for everyone."
The metaphor of editorship-as-dinner-party is one that her readers, who are overwhelmingly middle-aged women from the highest socio-economic groups in the country, would understand. They are dinner party types, and Taylor knows them well.
She serves me tea from a bone-china teapot in a jaunty knitted tea cosy and sits opposite me, regarding me a with a sharp – but not unkind – gaze. Do I want milk? Yes please, I say, a little. Taylor is predictably well-heeled and well-spoken – raised in Highbury, North London, with an art dealer husband and a second home in Hastings.
There is one previous editor that I am keen to probe Taylor on: Rachel Johnson, sister to Boris and Jo, who, in her three-year editorship, tried to haul the magazine into the 21st century. She also famously clashed with the magazine's aristocratic proprietors and threw The Lady into bitter, dynastic disarray.
"What controversy?" Taylor snaps, when I bring it up.
I backtrack. I don't want to have to spell out the tittle-tattle that surrounded Johnson's career at the magazine – how Julia Budworth, one of the shareholders, allegedly stormed into her office bellowing at her – and gave a notorious tell-all interview to the Independent in which she described Johnson as "vain, snobbish and obsessed with penises".
"I just wanted to ask about the family that owns The Lady," I say. "Don't worry."
"I'm not worried," Taylor says, curtly. "I think Rachel can speak for herself."
Taylor's gaze is now distinctly chilly. In an attempt to steer us on to safer ground, I ask about the magazine's covers, which adorn the walls of her office. Which issues have been her favourites?
"I liked the piece we did about the fannies," she says. Pardon? She explains that FANYs stands for First Aid Nursing Yeomanry, the only unpaid woman-only regiment in the British Army. "They're completely fantastic, daring types, they were the most decorated regiment in the First World War. And they're still going. Plus, I got to put 'FANYs' on the cover."
The Lady is just that, through and through – antiquated but strangely self-aware, predictable yet surprising. Sam Taylor is, too. She joined the magazine in 2012, as a stop-gap deputy editor, and applied for the role of editor in 2015. She has been a journalist since the late 1980s, starting at the now-defunct arts magazine City Limits and rising through the ranks of a range of publications including the Guardian, Daily Mail and Independent.
With such an extensive CV, I wonder what drew Taylor to the ailing Lady and all its idiosyncrasies. "I think my job here has been to make the magazine work to its strengths", she says. "People think of it as a heritage title – and it is – but there is so much charm and glamour in heritage."
It is time for me to go. "You can come back another time, though!" she says briskly, as she ushers me out – although I'm not sure if she means it. But what if The Lady's Bedford Street home has been auctioned off by then?
Again, Taylor seems unconcerned. The Lady has weathered two World Wars, the Swinging Sixties and, now, the era of digital publishing. It seems as though it is an immovable part of the newsstand. "Nothing much will happen." She waves me off. "We're here to stay."