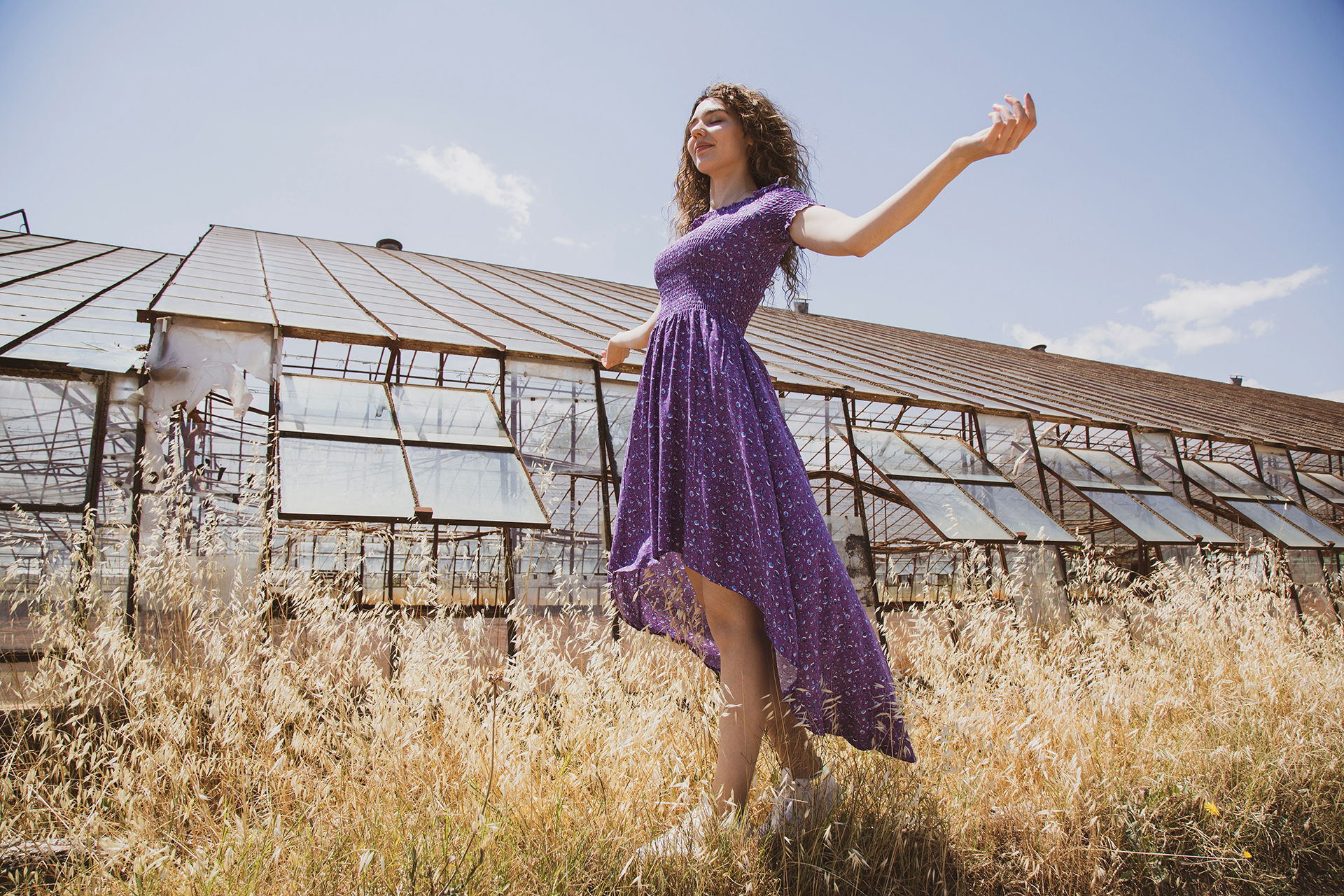 By Lucy Freeman, BA Journalism
If you're not quite ready to switch to the vegan lifestyle (lasagne is really rather alluring, we get it) maybe you can make your next clothing purchase animal free. It can be difficult to make a sudden change to your lifestyle, but it's all about taking baby steps. Thanks to some innovative materials, there's been no better time to try it out.
Yes, vegan clothing is becoming available in some of our favourite shops, and we're also seeing lots of independent vegan brands popping up. Animal free materials have been around in the shops for years; seriously, who doesn't own a faux leather jacket? They never seem to go out of style. But it's 2020, and we're past using only polyurethane, pleather (aka fake leather) to make vegan clothing. Many designers and brands have started using fruits such as apples, mangos, and pineapple leaves to create vegan leather bags, clothes, and shoes. Cork is another material that is starting to be used and although it's not new, designers and brands are finding fresh ways to use it.
Think vegan products are dowdy?
Many vegan bags are just as luxurious, buttery, and high-end as the real deal. Would you be able to spot the leather from the fake? Faux fur has also progressed to almost look just like the real stuff, but don't worry; Sascha Camilli shares her helpful hints on how to spot real fur (see next page) just so you can be 100% sure on what you're buying.
Veganism has become such a huge trend that food and clothes now proudly shout about being vegan, usually with a prominent sticker or label. This has been seen in high street store, New Look, with a range of bags that would've once been labelled as faux leather but are now branded as vegan.
Someone who has seen this sensational progress in fashion is social media influencer, Marta Canga, who switched to the vegan diet almost five years ago in a bid to get her health back on track. Like many, Marta started by taking small steps: "The more I got into it, the more I started to get interested in animal rights, clean beauty, living plastic-free and climate change."
Around the time Marta switched her lifestyle, the vegan diet was just starting to take off, and she found it easy to follow recipes from the likes of Deliciously Ella, Chloe Coscarelli, and nutrition books like How Not to Die, and The China Study. A triggering moment for her was when she watched Netflix sensation, The True Cost movie, where they talked about the environmental impact of leather. But there wasn't really any info on buying vegan clothes at this time: "In terms of vegan fashion, there wasn't much information available back then, except from other blogs and PETA's website really."
The power of the 'gram
Marta took this as an opportunity to help others switching to a vegan lifestyle. She took to the 'gram to share tips, recipes, fashion and makeup advice. Today, Marta engages with an amazing 18,000 followers, who get to see her gorgeous animal free and sustainable outfits, ethical recipes, and clean beauty. When Marta started influencing over Instagram, not many others used this to talk about vegan clothing: "Back then no one was talking about vegan fashion and as someone who wanted to identify as a vegan, I found it very difficult to speak to anyone about this. I worked as an E-Commerce Executive and seeing how influencers worked inspired me to do the same."
As someone who hasn't looked back from her decision to switch her lifestyle, Marta is super excited for the innovative materials being made, and although there's slow growth, she praises the promising future of vegan fashion: "I have noticed major household names jumping into the vegan fashion trend by offering clothing that is approved by PETA or The Vegan Society." Mainstream brands like Marks and Spencer, Aldi, New Look, and Accessorize are some inspiring examples of how animal-free fashion is starting to gain awareness. With exciting and innovative materials such as fruit leather being made, Marta believes vegan fashion is going in the right direction, but says awareness needs to continue to grow: "It is not yet widely available and vegan fashion is still under the shadow of vegan food. There definitely should be more awareness around the impact of animal fabrics on the environment as well as the cruelty behind it."
However, she has high hopes for the future as she believes vegan fashion is growing faster as a trend than vegan food, due to many people shopping more sustainably.
But how exactly has veganism become such a huge trend? With vegan food being so popular, it looks as if animal-free fashion will follow in the same footsteps. Fashion journalist and lecturer at London Met University, Olivia Pinnock, says: "I think it's a general shift in society, we are becoming more conscious about everything we do, and I really think we think about what we buy and where it comes from," says Olivia. "Now it's [veganism] seeming more popular and not a weird thing to do, especially now there's more options, and products out there."
The values of those designing our clothes
Olivia, who's also the founder of the Fashion Debates in London, says the popularity of vegan fashion is still behind vegan food, and thinks the future of animal-free fashion will become bigger depending on those in control of making it: "It depends on the new wave of designers and if they start with a philosophy  of wanting to be cruelty free," says Olivia. "Most of the designers who are conscious have started making collections that are bringing awareness into the fashion industry."
A designer in the limelight of vegan fashion is Stella McCartney. "I think she's doing an amazing job, she's so passionate and informed on veganism," says Olivia. "I'm sure people laughed at her when she came up with an 800 pound bag that wasn't made of leather, but she built a brand made of luxury and values, and she's been doing it from the start."
Other brands are starting to build veganism into their collections, with the hope their products will become very popular: "It's interesting to see brands experimenting with materials. Chanel made a Pinatex jacket, and it's very exciting, Pinatex were like 'oh my gosh, if Chanel uses it, it'll go mainstream'," says Olivia.
Although the jacket was made from Pinatex, it was lined with rabbit fur, so in the end they didn't want to tell anybody about it. They're halfway there though right? It's showing us brands are working with new and exciting material.
Is vegan clothing the new miniskirt?
With these designers jumping onto the vegan trend, there's no better time to look on point in the trendiest new materials. Could this be one of the biggest fashion breakthroughs? In the 1960s, British designer Mary Quant became a fashion legend after she invented the modern miniskirt (thank her for your cute tartan miniskirt, or your ditsy summer miniskirt) which was an instant hit with women. It meant they were able to express their sexual freedom, as well as their love for fashion. So, could vegan fashion be like this? These new animal-free materials support people's concerns over animal cruelty, workers' rights, and the planet, whilst letting us still dress gorgeously.
Olivia believes that this trend comes down to materials: "I think it's probably about material innovation which doesn't sound very sexy," says Olivia, "but look back on the 20th century where new materials like rayon and polyester were made. We think of it as cheap and plastic and bad for the environment, but before it was seen as a wonder material."
During the 20th century these materials were just as groundbreaking as vegan materials are now. Olivia even compares the value of the new materials to the Made in Movement: "Ten years ago there was a push for being made in Britain, I'm not sure how big this was outside of the fashion industry, but the values are quite comparable to what's happening today."
Change is good
Have we tempted you with this new trend yet? Maybe you want to try it out, but we get it, change can be scary. Dating expert, Cheryl Muir, has switched to a vegan lifestyle over the past year, and has found the change fairly easy: "I was vegetarian for 20 years and then I started to eat meat again for three years," says Cheryl. After living with flatmates who were eating meat, Cheryl began to lose her reasoning for turning veggie in the first place. But after someone showed her videos of what was happening on factory farms, Cheryl found her reasoning again.
"To me if I'm not going to eat it I'm not going to wear it," says Cheryl. Since switching to a vegan lifestyle, Cheryl hasn't done much clothes shopping as she likes to make good use of what she already has. However, she has unintentionally noticed the amount of vegan clothing in mainstream shops: "I haven't done huge amounts of research into vegan leather, but I was walking through Marks and Spencer's one day and I saw there were some really beautiful boots and they had a vegan sticker on them," says Cheryl. "I had to buy them, and I even got two pairs in different colours."
"If I became vegan three years ago, I wouldn't even know where to start with vegan fashion," says Cheryl. "But so many people are talking about it now, and we are seeing so many public figures who are turning to a vegan lifestyle, they are all in different pockets of society such as celebs and politicians." As someone who has more recently turned vegan, Cheryl has noticed just how much people talk about the lifestyle and thinks this is how awareness of vegan fashion will spread over the next few years.
We must say, it is really rather cool how we can just walk into our favourite shop and expect to find some animal-free clothing. There's no way we would have imagined that about four years ago. And just like Cheryl, if you're starting to make changes in your lifestyle, spotting a pair of lush vegan leather boots that you absolutely love is a good way to start.